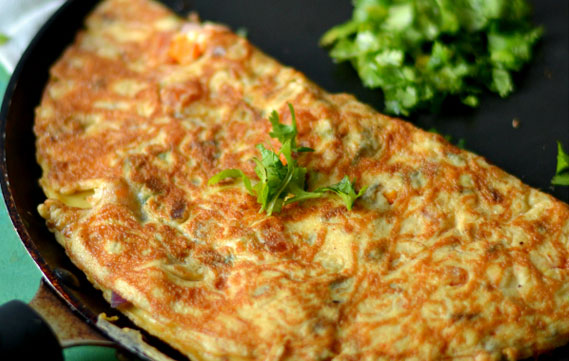 Omelettes are very so simple to make and am sure almost everyone knows how to make one. But, just for the sake of it and revisit those crappy times and little moments of happiness among them…I am posting my recipe of an Indian style Masala Omelette. There is of course a little twist in the masala i.e. the spice mix and I hope you will love this version too.
Ingredients
3-4 eggs
1 medium sized onion, chopped small
½ of a small tomato, chopped small
1-2 green chilies, chopped small
Handful of coriander leaves, chopped
Salt to taste
¼ tsp red chili powder
A pinch of black pepper powder
¼ tsp Garam masala
A pinch of chaat masala
1 tbsp milk
1 ½ tbsp. cooking oil
Method
Break eggs in a mixing bowl, add in salt and whisk them nicely till it's all blended well. Add milk and other spices and whisk again for a minute
Drizzle oil on a griddle/pan. Let it heat it (this is important, since if you spread eggs on cold oil it would stick at the bottom and you would need more oil to scrap it out)
Meanwhile, add in onion, green chilies, tomatoes and coriander leaves to the egg mix and whisk once again
By now the oil must have got hot enough, turn the flame to low and spread the Egg mix evenly on the griddle. After a minute, turn the flame to medium and let the Omelette cook for another minute.
Once it's done from the bottom side, flip gently and cook the other side on medium flame. Take care not to break or burn the Omelette while the flip. I usually cut the Omelette in to half and the flip both the halves separately. It helps in avoiding any breakage.
Once properly cooked from both sides, slide on to a serving plate and pair with ketchup, toasted bread and Indian Chai for proper breakfast/snack.